We are delighted to be finalists in 5 categories for this years ecommerce awards. This is a reflection on the quality demanded, loyalty given and teamwork of both our staff and our clients.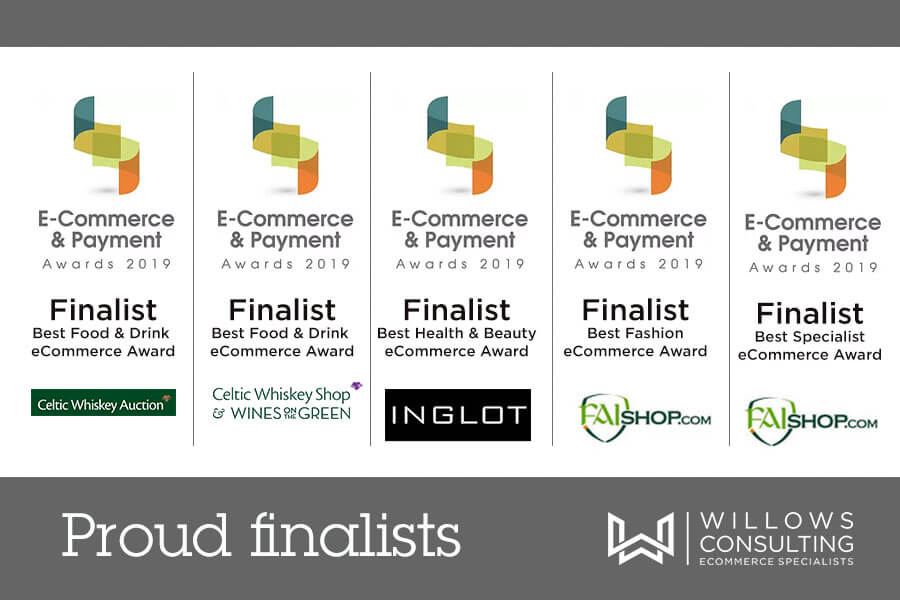 Willows Consulting are proud to have no less than 8 of their clients ecommerce sites shortlisted as a finalist at the eCommerce and Payments Awards for 2019.
We have 3 finalists in the food and drink category ( Celtic Whiskey Shop, Celtic Whiskey Auction and James Joyce Gin. In the B2B category we have 1 masonary fixings, in the Health and beaty we have Inglot costmetics. In the Fashion we have FAI Shop  and in the Specialist category we have FAI Shop and the National Gallery of Ireland.
The eCommerce & Payment Awards aims to recognise the complexity and centrality of eCommerce in the digital world and to celebrate the massive contribution it makes to local economies and ongoing global trade development.
Sean Owens Willows Consulting  founder said "I am delighted that our teams creations have been rewarded. I am also grateful to the loyality and trust our clients have shown us in allowing us to create their sites. Since 2002 as an exclusively ecommerce design company we specialise in B2C and B2B ecommerce across a broad range of sectors and see a huge opportunity for all business selling products and services. "
To view the shortlist of nominees Click Here