Restaurant Online Ordering System
Take Your First Online Order Today
Stop wasting time looking for an online food ordering website. Start taking online orders today. No commissions on sales.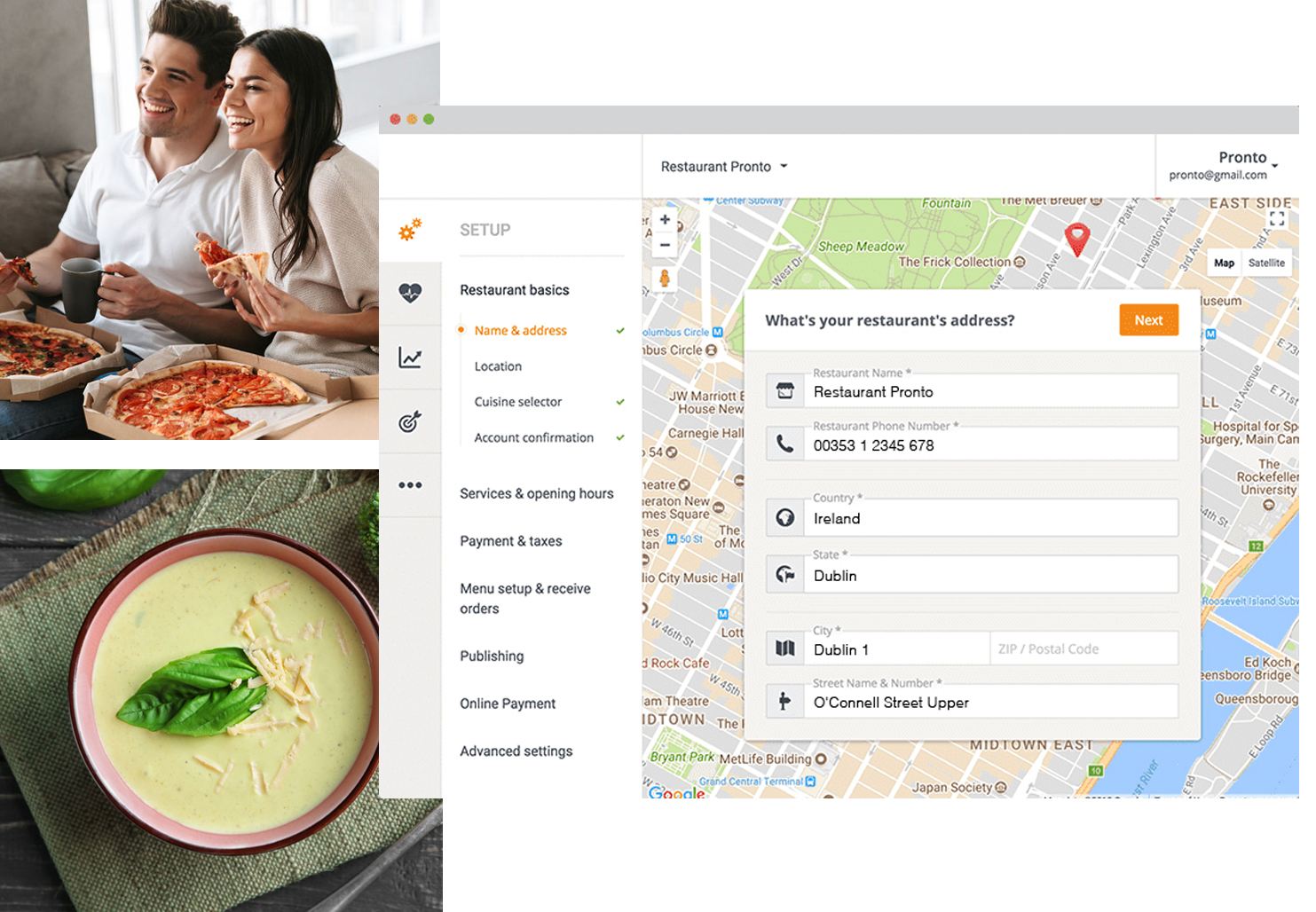 Do you require an online food ordering website?
You have come to the right place. We are building food E-commerce sites since 2002.
The online food ordering ecommerce can be done in one of 3 ways.
Use one of the saas players like "justeat" "deliveroo" and pay 10%+ commission on every order value+ maintenance fees.
Use a blogging platform like wordpress with addons.
Use a saas online ordering platform that takes no commissions but a flat fee based on features and not sales volume. Embed into your existing site.
Product Feature List
Website/Facebook App
Extremely easy checkout process

Possibility to set minimum order amount

Possibility to take online orders only during opening hours

Works with "Pickup", "Delivery" or both

Possibility to customize items, for example size: small, medium, large

Possibility to add toppings, free or for an extra fee

Friendly tablet controls

Possibility to customize the delivery area set out

Real time self-aware web/facebook app of restaurant's inability to take more  orders
Orders In Tablet / Smartphone APP for Restaurants
Receive orders from website widget or Facebook app

Receive visual and sound notification when new orders arrive, even when the  app is closed

View customer and delivery details: name, phone number, address

View order details: product name, quantity and price

Accept or Reject new orders: confirmation is sent to your customer in an email

Set delivery or pickup time: this info is added in the confirmation email received  by the customer

Online Food Orders Received On Smartphone Or Tablet

Receive special request about ordered item, for example: gluten free, no pepper

Receive special request about delivery, for example: buzzer not working

User friendly: displays all orders and other important details at a glance, in a single screen
Don't wait for your competition to go online, be first!
Food Online stores are proven to sell more when they have a mobile offering
We have been building award winning food e-commerce since 2002.
Call us today for free consultation on 01 52 42 100 or chat online live from our live help button on the left, ( when we are online ).
We are always researching and watching e-commerce trends to keep our clients up to date.
Read our Ecommerce Blog here
Read our Ecommerce Setup Guide here
Also interesting reading :  The retail is being overtaken by ecommerce.
We are the co-founders of the Ecommerce Expo Ireland. Ireland's first dedicated ecommerce exhibition and conference.
Trusted by
Some of our customers who have trusted us over the years.
Our Clients Say
"Willows Consulting stepped in with some great ideas. From Day 1, they looked after our business requirements and built a great site which our customers appreciate. Hooking into our CRM was effortless and allows our customers to manage every aspect of their account."
"Nambé are delighted with the results. Thanks to Willows, we have achieved our goal of going 'live' within our demanding time frame and budgetary expectations. Willows knowledge of the eCommerce industry, the excellent customer service, exceptional response time and service delivery, has been outstanding."
"Sean and his team redeveloped our website in 2008, and delivered a great improvement over the previous version. Sean was straightforward to work with, responsive, and keen at all times to ensure we were satisfied with the results.
I'm happy to recommend their work."
"It has brought a lot of new business to our door.

Hi Sean,We are loving our website and it has brought a lot of new business to our door so we thank you and would recommend your services to anybody"
"We are delighted with the finished product!
Thanks so much for all your hard work on this, and Patrick too. We are delighted with the finished product"
"A pleasure to work with you all.
Thank you all great to have everything now working much appreciated and it has been a pleasure to work with you all"