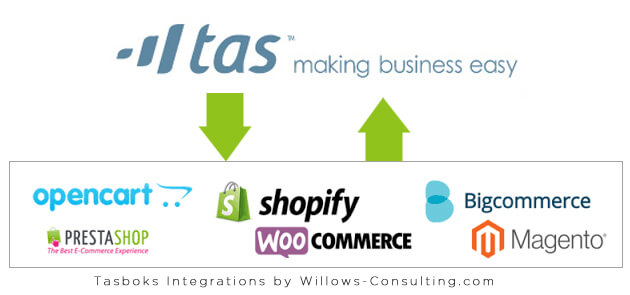 We provide push / pull data from Tasbooks to Ecommerce platforms.
With a Tasbooks to Ecommerce link you can : 
push realtime stock levels of product to your website so customers can see if their product is available immediately.
import sales from the web into TasBooks directly, no more double entry and the mistakes that can be made.
seed websites with new stock from TasBooks, great if you have 10,000's of line items.
No need to go changing from TasBooks because it will not speak to your new website.
Remove the pain of updating manually stock levels, prices, customers and importing sales manually.
The solution involves an addon for TasBooks and some synchronisation scripts for your opensource ecommerce system.
We look after the complete installation for you.  We are Tasbooks users so we understand this wonderful accounting system.
The following are the ecommerce platforms we have linked to Tasbooks.
Tasbooks to osCommerce
Tasbooks to zenCart
Shopify to Tasbooks
BigCommerce to Tasbooks
In Summary :
Linking Tasbooks to your ecommerce allows you to run B2B Ecommerce on your site. Take orders when you are closed and steal a march on the competition. US companies are doing about 55% of the their total business online. They are also stepping into B2C because their existing customers cannot make it pay on the their margins.
Contact us today for a quote and a chat. We have an excellent track record in linking Tasbooks to ecommerce.