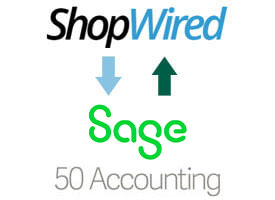 Linking Shopwired to Sage50 or 200 will save you 100's of hours of re-keying, reduce errors to zero and allow you to process your customers online orders faster.
Using our S50Cloud conduit and Shopwires API we create a Shopwired to Sage Link.   We link the 2 systems seamlessly synchronizing Products, Prices, Stocks, Customers and sending online orders back to Sage.
The items synced from Sage to Shopwired.
Prices ( including customer group pricing )
Stock levels
Titles
Descriptions
Categories
Customers
The items synced from Shopwired to Sage.
New customers
Orders
New Products if not found on Sage ( so you can make the website populate sage only with stock that sells, ideal for drop shipping )
If you are starting out in ecommerce and do not have the budget to develop your own standalone store then Shopwired maybe the answer. Shopwired is a Saas ecommerce solution.
Remember investment in automation pays a return every day.
We also link
Shopwired to TasBooks
Shopwired to Greentree
Shopwired to Sage200
Shopwired to Sage50
Shopwired to SageCloud
Contact us today for a free consultation.