Enterprise Ireland's €25K* Online Retail Scheme grant for retailers.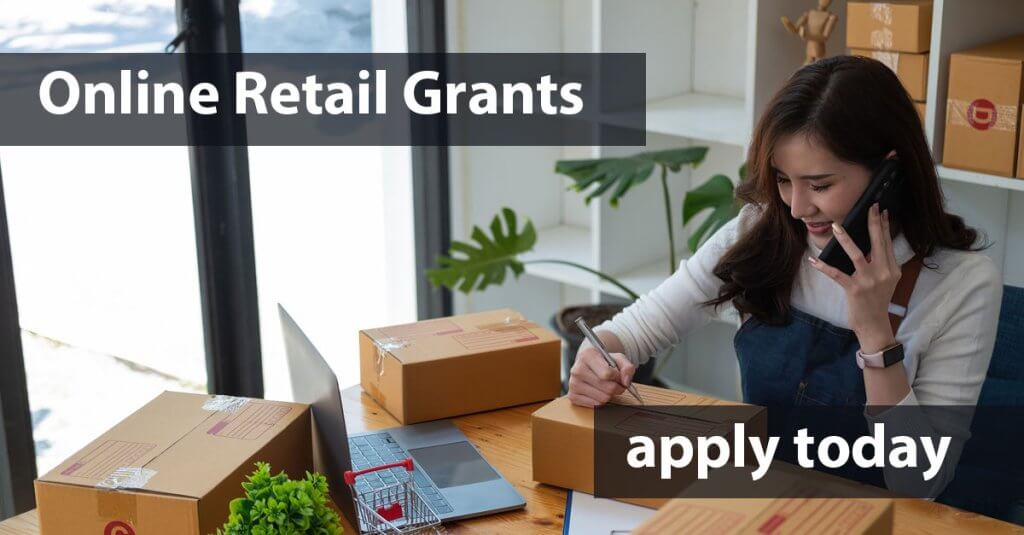 The Enterprise Ireland (EI) online retail grant is worth up to €50,000 and can be awarded to any retailer in Ireland with more than 10 employees. The objective of this EI scheme is to help retailers transform their business so that their online and offline arms work successfully together to drive sales. Successful applicants will be awarded
*funding to support a maximum of 50% of the project eligible costs of €50,000 with a maximum grant of €25,000.
Retailers to fund 50% of the overall project cost, so the scheme is a significant opportunity for an Irish-owned retail companies to advance and develop their online presence, boosting their business in these unprecedented times.
What will the grant deliver for you?
Typical elements of a project under this grant scheme include in-depth market analysis, leading edge consultancy for developing a digital strategy, expert implementation of the proposed strategy and familiarizing internal staff by providing training in new ways of doing business.
What services are offered by Willows Consulting
Research –
In this part there should be an in-depth analysis of the company's current situation with a potential focus on growing online presence. The research would help the company with making knowledgeable decisions about optimisation of online marketing channels, web functionality, payment systems specification, catalogue presentation, supply chain management, consolidated inventory systems, order fulfilment and consumer experience.
Strategy –
The section specifically includes developing a path to implement the digital transformation outlined from the earlier research carried out.
The strategy must focus on how best a company can demonstrate its online presence, what aspects and value propositions should be emphasized and how to make it self-sufficient to grow and provide omnichannel offering.
Implementation –
Optimising the company's online presence to facilitate domestic and international visibility and upgrading "back end" systems (e.g. web enhancement and localisation, associated business process enhancements, search engine optimization, product presentation, systems integration to improve consumer experience etc.).
What are the Eligibility criteria for the Scheme?
• The applicant should be Irish-owned limited company and must employ 10 or more people.
• You must have an existing physical store and some form of online presence (Website or Social media).
• Where a company provides both products and services, the applicant must provide a breakdown of sales revenue showing that products account for more than 50% of total revenue for a recent trading period,
• Where a company has a mixture of business-to-consumer (B2C) and business-to-business (B2B) operations, the applicant must provide a breakdown of sales revenue showing that sales from B2C activities account for more than 50% of total revenue for a recent trading period, which may be up to the call close date.
Ineligible Costs includes:
• Upgrades to existing online channels that would happen anyway or could be considered business as usual
• The purchase of hardware e.g. laptops, studio equipment, cameras, leasing of vehicles, etc
• The purchase of "off the shelf" software package licenses or subscriptions e.g. for Customer Relationship Management (CRM) systems, Shopify monthly subscription fee, etc.
• The funding of online advertising campaigns e.g. pay per click/banner ad campaigns – Google, Facebook, LinkedIn, etc
• Offline marketing costs e.g. brochures, printing, materials for events, models, vehicle signage etc
• Video production or photography costs
• External training course fees (unless provided in-house by your chosen External Service Provider)
• Any expenditure incurred and paid for prior to the close of the Call or after the final Grant Claim date is not eligible for assistance.
What is the closing date for the application?
• The start date for online Retail Scheme is 4th Apil 2023
• The closing date for Online Retail Scheme is 3rd May 2023 at 12pm (noon) for online application. .
Willows Consulting are an approved Enterprise Ireland supplier.
A link to Enterprise Ireland web page on the Enterprise Ireland Online Retail Scheme is here.
To discuss the scheme in further detail, please provide us with your contact by filling up the details below and we'll be in touch with you