Google My Business if implemented correctly can drive serious traffic to your business. Not implemented or updated correctly can have a severe damaging effect.
Because Google my Business listings now appear above the organic listing on desktop and mobile they are clicked more than the organic listing.  This applies especially to businesses that are location based or where the searcher is looking for a local provider.
Make sure there is only 1 listing Comments and Ratings of your business listing for your location.
Competitors or previous operators in the same space may have alternative listings for the same business.  Black hat SEO practices also like to fake locations so as to get ahead of competitors. While it is possible to report these fake locations to google it is a long process to see them removed. During this time they are diverting traffic from your site.
Make sure your opening times are correct.
It seems like an elementary thing to do but a lot of businesses get caught out where they have different summer and winter times and they forget to update these. There is nothing more frustrating to have done your online homework and then travel to the location to find its closes early on a Friday and this is not on their listing.
Control the images of your business.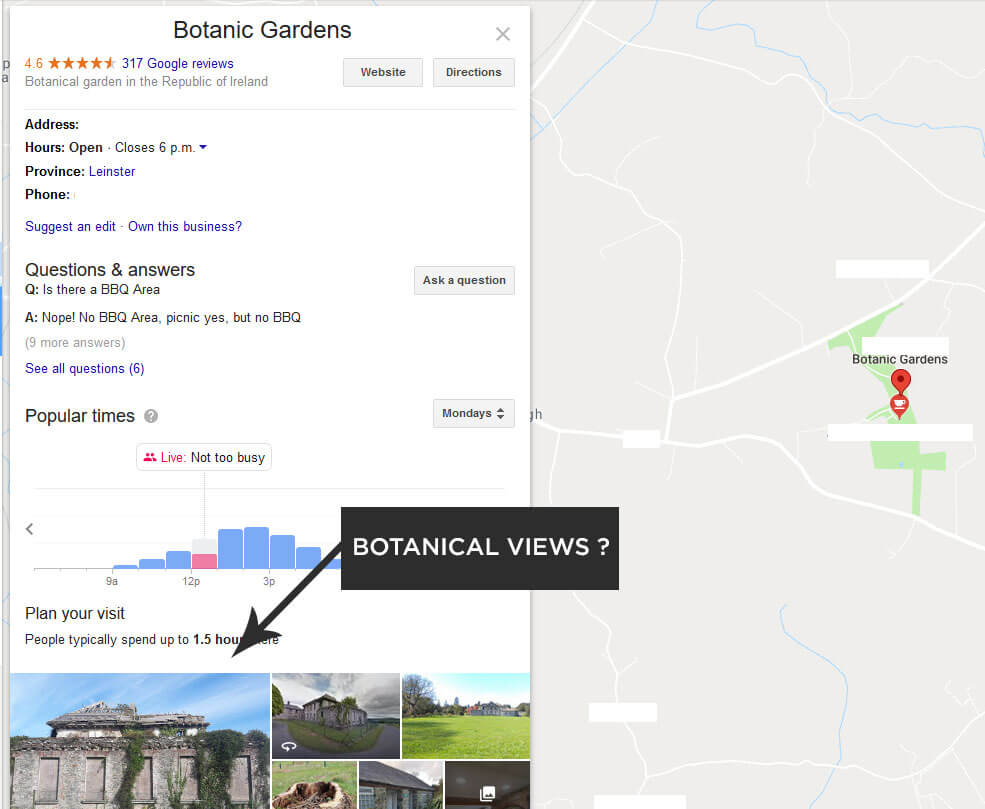 Google street view will be one of the images associated with your business.
Example here is of a botanical gardens. The views are of a derelict house on the site and not one of the beautiful collection of specimen trees and flowers. It is a pity as the site has great reviews and really is beautiful and free !
You can request that google shows a different view on google street view of your premises if the image they are using is unflattering or misleading.
You can control the other images. Beware the public can also submit images too and you need to check these out regularly.
Check out your business view in case it is damaging your business.
Monitor your questions and answers.
Google business listings allow for visitors to ask questions and the public to answer them. You need to monitor these to make sure the information is correct.  If the information is not correct, politely correct it.
Claim your Business
It maybe that your business has a listing already and you have not claimed it. If this is the case claim it immediately and google will start the process of verifying the identity of the business owner.
Anyone can claim your business if you have not claimed it already. Black hat SEO 's are doing this to plant links from your GMB page to theirs and get some SEO value. Of course its not real and its fake – but it could damage your business. It begs the question why google pro-actively makes these entries in the first place and allows a gold rush on them.
Comments and Ratings
The public can monitor and rate your business. Black hat SEO's will generating comments and ratings and google will spot these as un-natural and de-list the business.  If you receive comments that are good, thank the commentator and sign the comment with your name. If the comment is bad, respond and try to continue the conversation offline.  If the outcome is good encourage the commentator to comment that the issue was resolved to their satisfaction. Bare in mind that your competitors may plan bad reviews. If the bad reviews are genuinely groundless and not by persons known to you, you can request that google remove these.  The process is pretty slow and you need to be able to spot similar comments from the same user in other places so as to help google see the pattern. Worst thing is bad comments pilled up with no replies, good or bad. Just looks like the business does not care and is possibly out of business.
How to spot a ratings troll in google my business reviews.
Step 1 identify a 1 star rating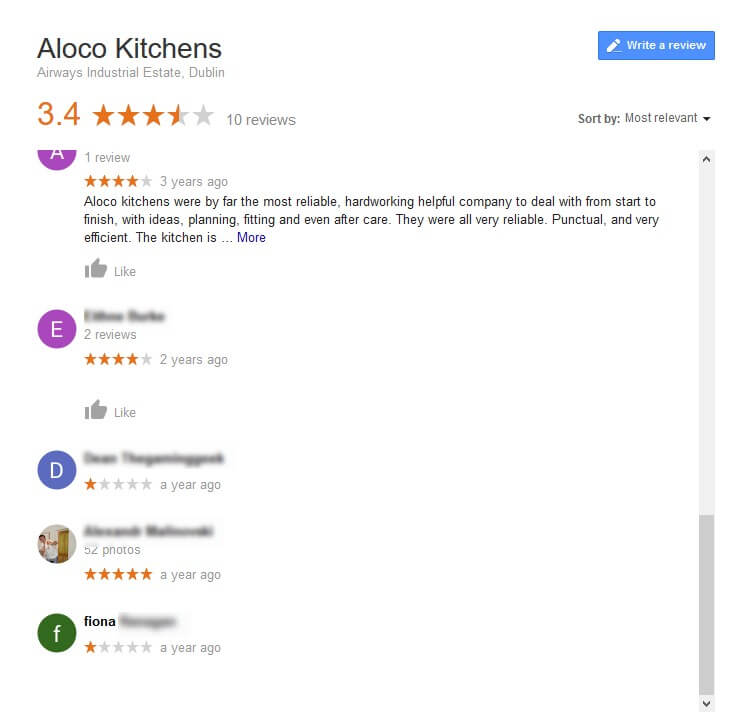 Step 2 drill into Fiona's other ratings to find if there is a pattern.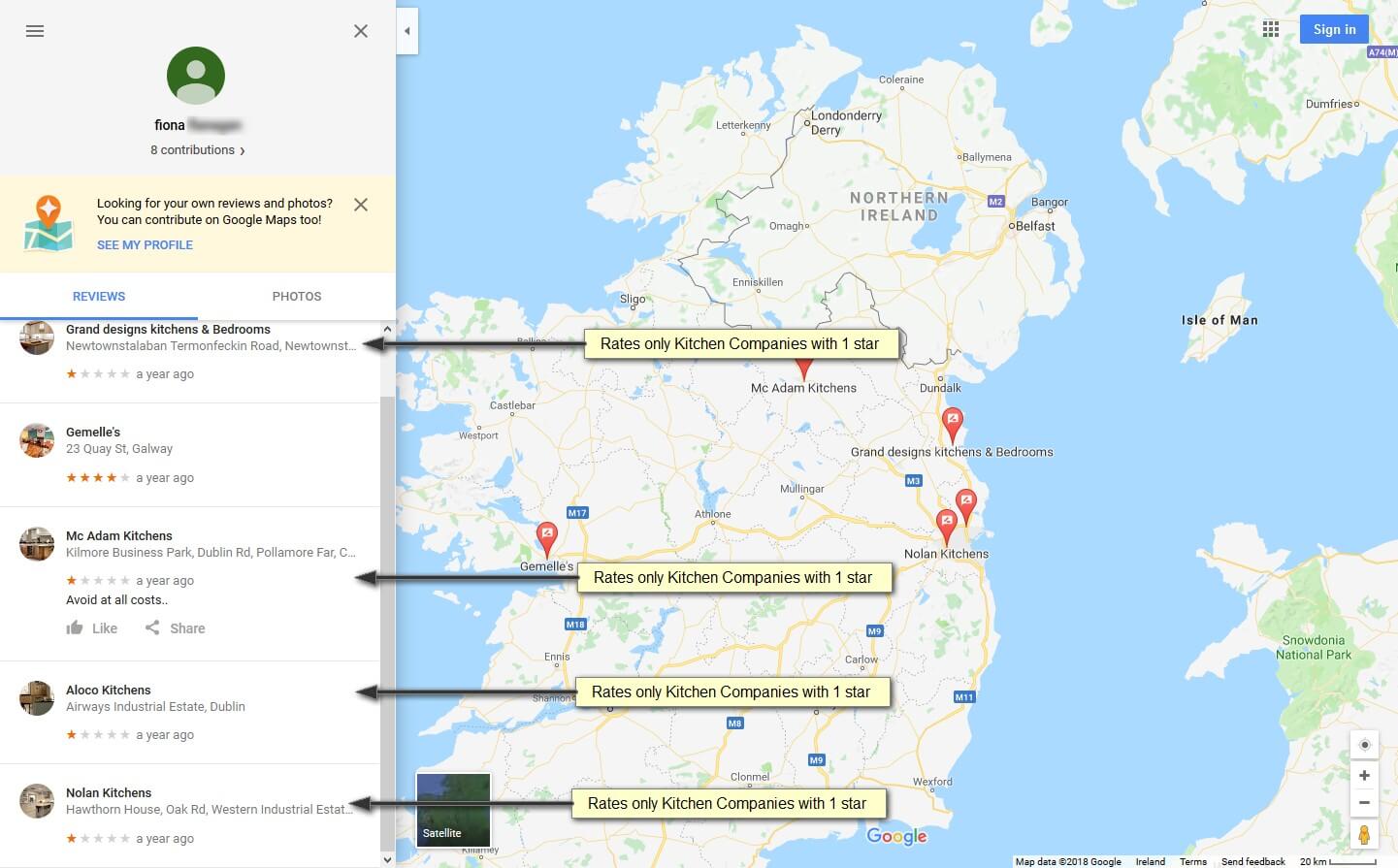 It certainly looks like there is a troll at work. "Fiona" is rating kitchen suppliers all over Ireland with a 1 star.  All done in the same time frame. 1 star no comment ?  If you are buying a kitchen you are using a local supplier,  not a supplier in Galway, Cavan and Dublin. Most people will buy 1 kitchen not 4! Our guess is that this is some form of Black hat SEO on the Google my business for kitchens to help a competitor up the listing. Grounds for an appeal here.
Keep your business images updated or else !
If you do not update your business images the public will and they may not be putting you in the best light. Below are 2 examples of this.
These images have been uploaded and tagged by members of the public. Some have even posted a 360 versions and they are poor. I would suggest this Botanical garden looses alot of overseas visitors who make a decision based on these views. Its a really beautiful place as  have been there, but this is so bad the main image is telling people to keep out !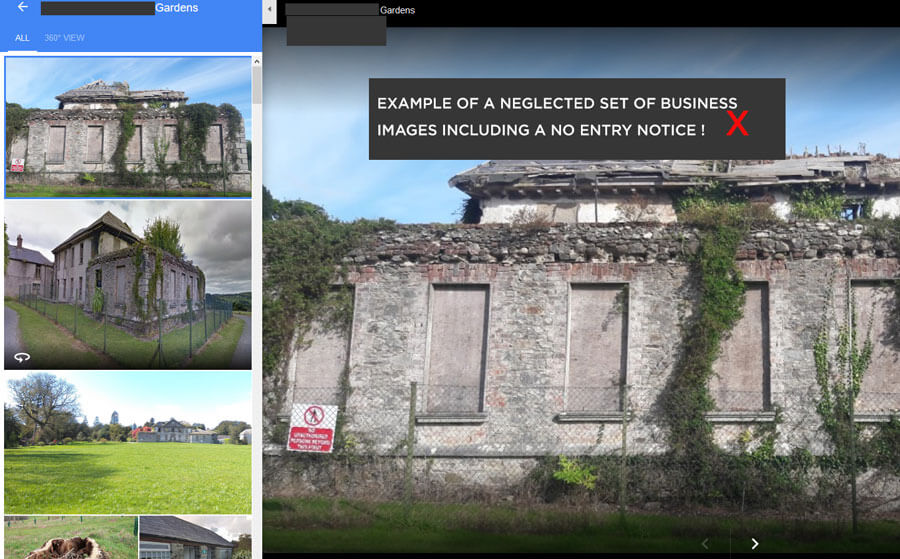 On the other hand a local kitchen supplier has got their act together for their images.
The images are beautiful and you are tempted to click on the 360 and see around the show room.  They have got a professional to do this and it looks the part.
So is it worth the effort ?
Seeing as the organic snippet SERP result is below the fold then you really have no option. We have kept our listing up to date and the results of 1 quarter are now available in google my business insights.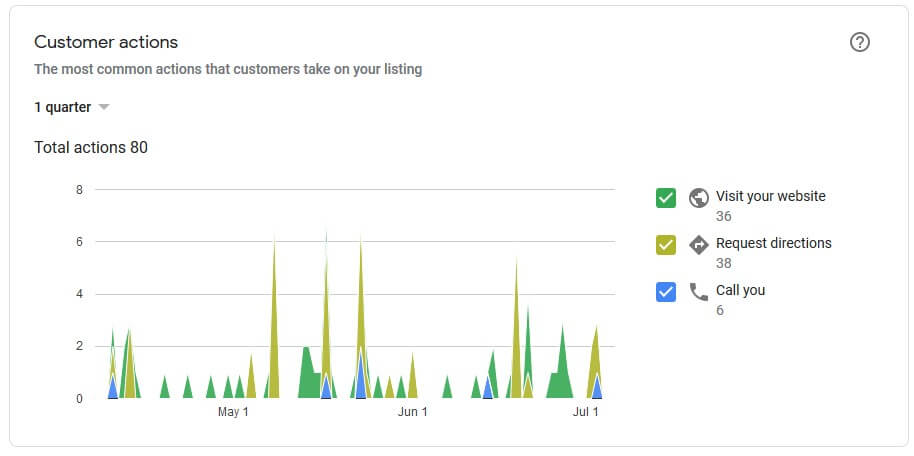 Over 1 month 25% of our traffic is coming from maps because our results are now below the fold.  This is with very modest traffic rates. I suspect for high street stores its a lot larger.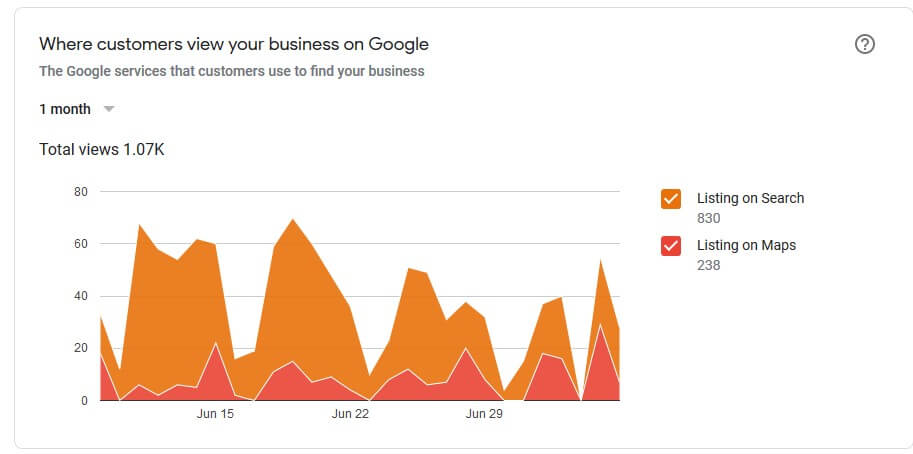 Additional features added to Google My Business.
Google my business have introduced an mobile application that can be linked to your mobile phone. This enables visitors to live chat via your Google My Business link.
You can also update your listing from your mobile phone now, making it really good for trades people to show before and after images of their work and respond to reviews immediately they come in.
Conclusion :
Ignore your listing and it can be silently damaging and driving business away from your site and location.
Look after your listing and it could bring you 25% or more traffic.
Encourage your clients to leave positive reviews on GMB.
Encourage visitors to use google my business to find your office or business premises. If they leave the directions running all the way to the door it provides a strong signal to google that cannot be faked – unless you plan on loading in 200 phones into the boot of your car and gaming the system !
Credits :
Apologies to the Botanical gardens, I'll gladly update your listing.
Aloco kitchens for allowing me to reference their site.
Various Twitters for bringing this to our attention to share with our clients.