Since August 2018 Google has been changing dramatically search for products. Organic ranking is becoming less relevant and less powerful as Google monitize their service to businesses. Businesses relying on organic listings and are seeing their sales and visitors drop while still occupying position "no 1" on the page 1 of google for selected search terms.
"Free organic Google listings for online stores have all but vanished".
Position 1 on Page 1 now is off the screen on mobile and desktop. You have to scroll past product feeds, image carousels, video carousels and and maps to eventually get to the organic ranking. With Google Product Feed Carousels the organic result is less appealing.

There are 2 different displays in Google shopping results.
Products that can be compared like for like and those that cannot.
Products that can be compared like for like E.G.  "Sony Playstation 4" This is a defined product that can be compared across multiple shopping sites. The comparison is straight forward. The only variable is shipping. You still need to go right into the site to see what the shipping rate is going to be.
Other searches like "Ladies Boots" will produce a completely different Search engine result and this is the one that points to the direction that Google seem to be taking on google shopping feeds.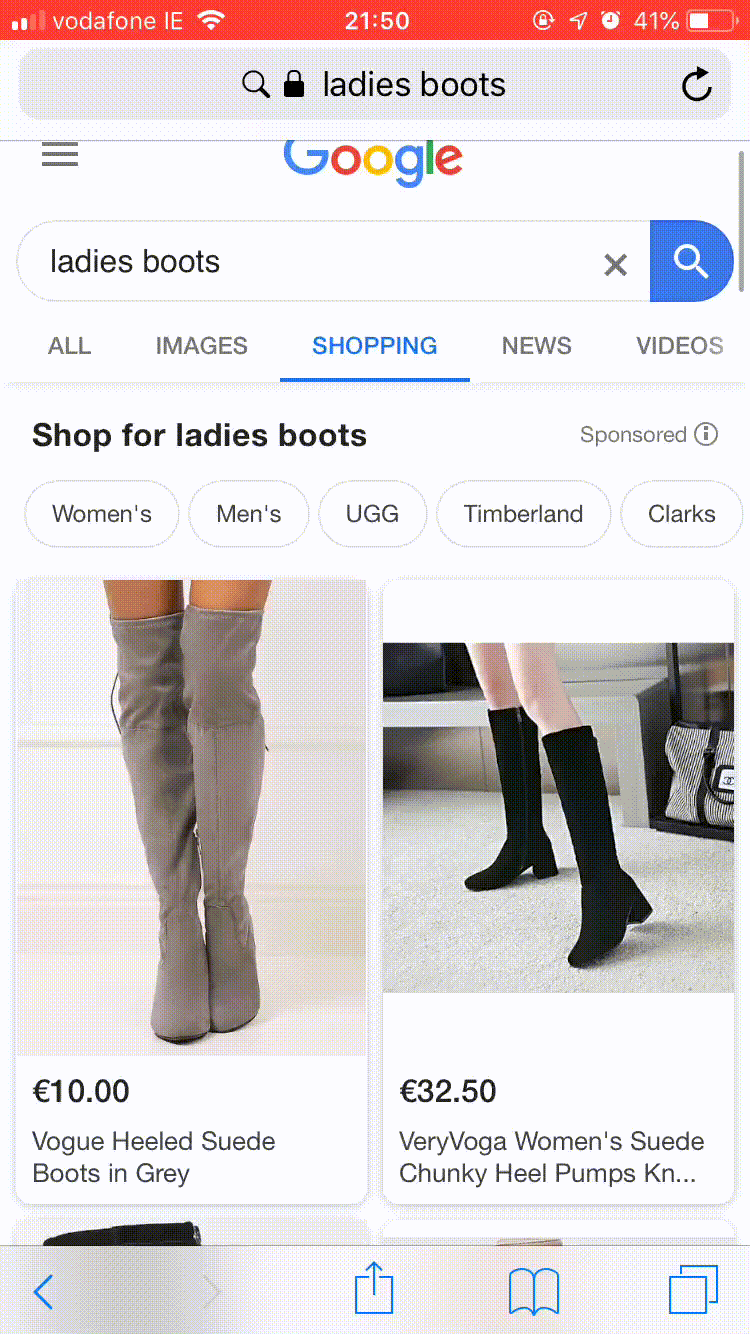 And then a further click brings you to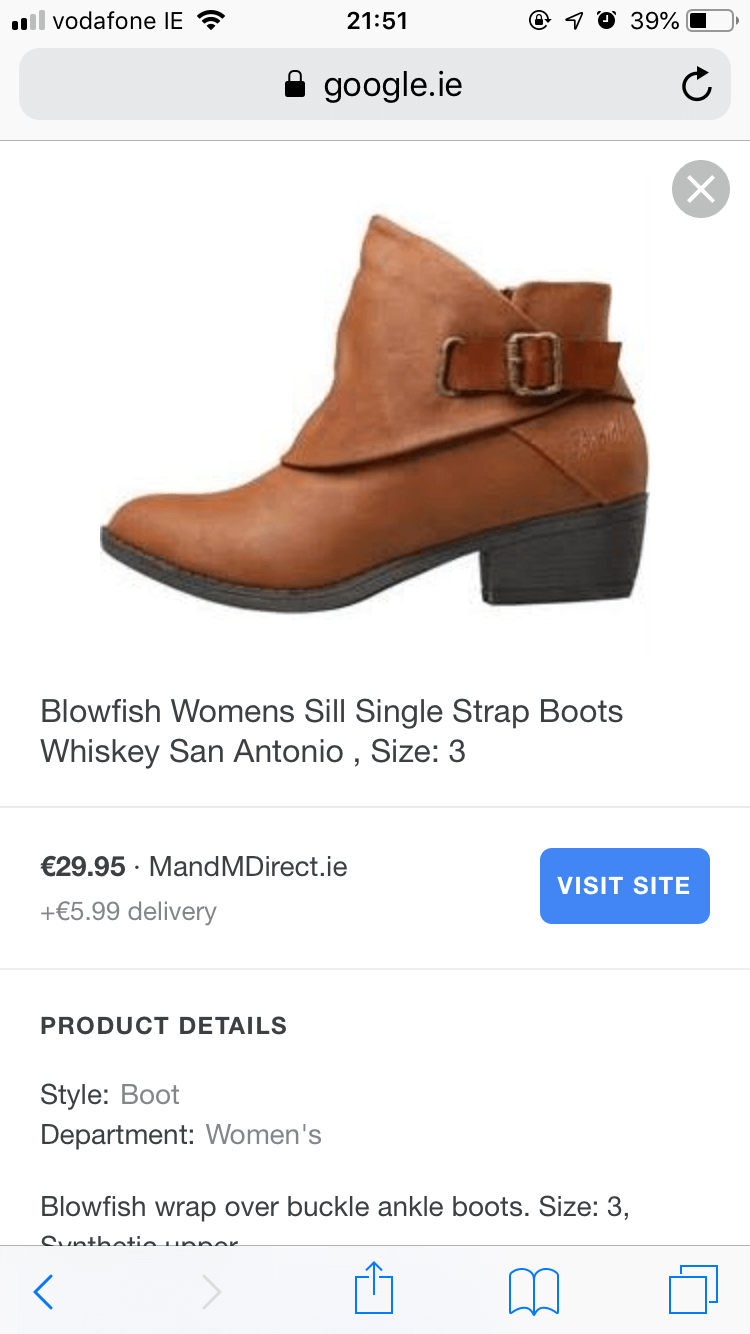 Even clicking into the product on google shopping still does not bring you to the stores website.  You can scroll down but if you swipe left and right you are brought to the competitors stores. Very user friendly feature but making life more complex for online marketeers. Not friendly for the advertiser as you still have your competitors after the first click.
It now takes 2 clicks to get to the actual website of the store. Before it took one.
The feature Armchair example :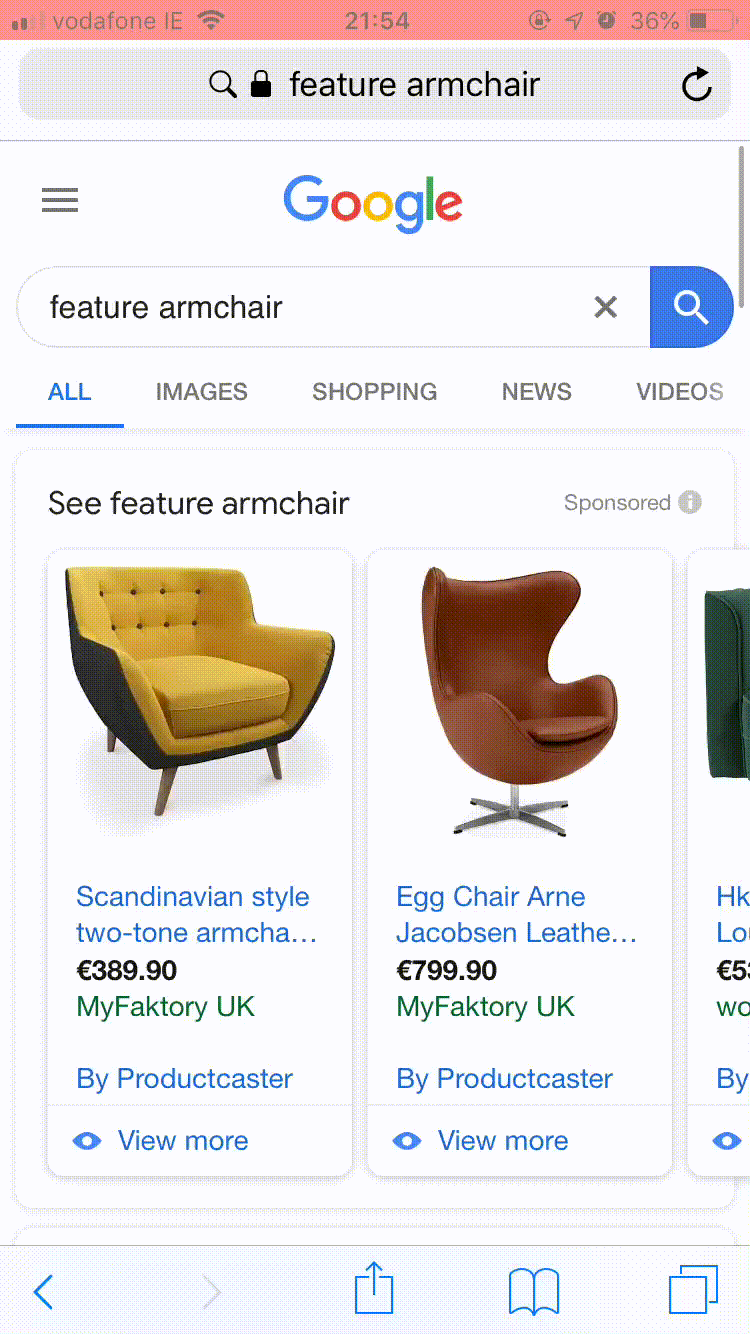 Insert images before and after here
Question is are google charging for the 1st click or the 2nd click or are they charging for both. This is a massive shift as before the pay per click delivered the customer to your website now it delivers you to a better possibility of a click through to your website. It now looks like "pay per 2 clicks".
Pure Price Comparison
This is where the real war is. Where there are products that are exactly the same no matter where they are.  The race is on pure price and customer ratings.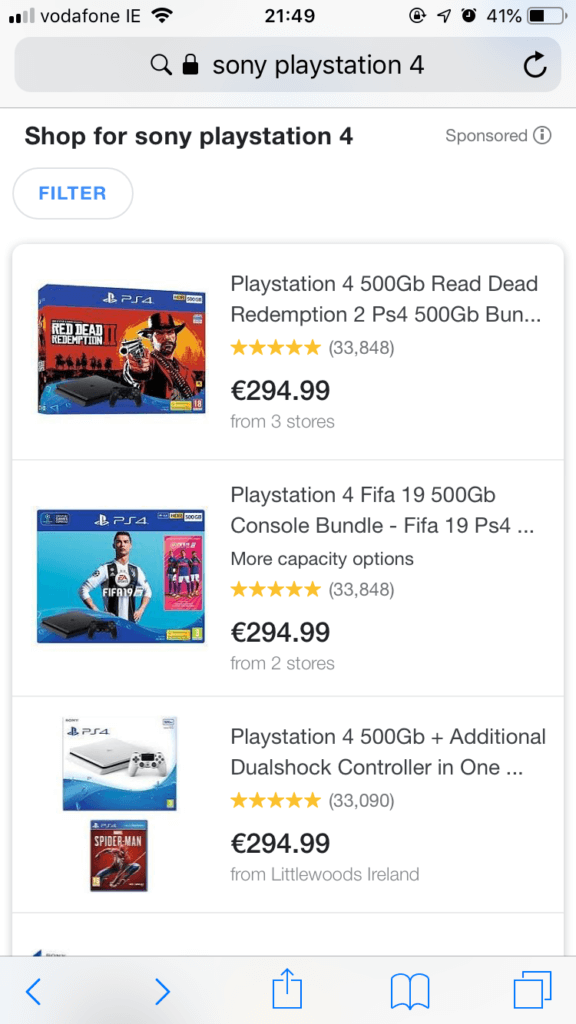 How are Google helping the advertiser ?
We know that every extra click in ecommerce is a click closer to abandonment. So google has enabled the searcher to look at up to 100 products across 10 stores without the user having to wait for more than 1 screen refresh. It is impressive and a huge time saver to the shopper. By the time the shopper has come to the store they have not clicked as much as they would have if they had visited many stores. This in theory should mean a decreased abandonment rate.
What is next on google product feeds ?
We predict that google are going to try to get into the middle of the transaction, and have the customer transact in the search results and funnel the order details to you the store owner.
There are google patents that lead us to believe this is on the way. Google patents are the place where one finds out what Google is thinking of doing next. They patent an idea before they release the development to the market place. It is a pre-emptive strike and monopolizing the technology on the off chance that it make take off.
Ecommerce Google Patents, quite interesting reading and worth a post in itself. Remember if you copy their idea they will find you !
Steps ecommerce store owners should be taking to improve and maintain their feeds:
Setup and install google product feeds
Keep the feeds up to date on a daily basis
Check your product listing on mobile devices
Check your competitors on google product feeds
Start collecting statistics of visits from product feeds
Install Google advanced ecommerce tracking to as to detect the click through rates
Make sure your advertising is time based for the time zones of your customers
If you are running a sale get the discounted price in the feed to google
Make sure your customer ratings are shown
Check your product schema is 100% perfect.
Is it worth advertising in Google Shopping feeds?
Sites that have implemented Google shopping feed are seeing 30% increase in click thru rates, 37% increase in conversion rates. However these results are based on decent budgets being spent in google advertising. You always have to look at the cost of the aquisition of a customer. Then how well you can resell to this customer is the secret to extracting more value from them.
This article is one of the reasons why eocmmerce store owners choose Willows Consulting as their Ecommerce Partner. We are constantly looking out and researching for the latest developments and features that help store owners create more sales and keep ahead of the competition. Contact Sean today for a quote