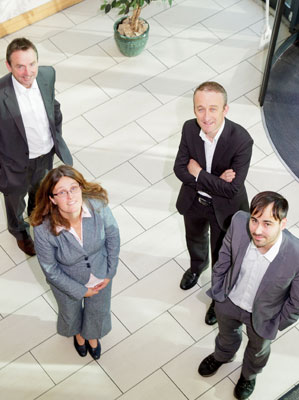 Our Team is made up of a wide range or experienced and skilled indivduals who together make a great team to serve you.
Managing Director
Sean Owens:
founder and managing director who manages and directs the day to day running of Willows Consulting. Developing websites since 1995. Developing websites for the corporate and private sector. A computer science graduate with a retailing background makes for a unique ecommerce skill set. Formely of Cognotec, EDS and Oracle.
Project Manager
Aine Williams:
Aine brings 12 years product line management from Oracle corporation. A graduate of the DIT and IMI ensures a high degree of industry knowledge and QA is an integral part of all Willows Consulting's product. Project management, directing high end projects to on time and quality deliveries. Our Senior Css developer
Our chief technologist.
Chris Nivard
Chris is a serious PHP developer who brings the latest technology and developments in Cloud technology to your website. Chris is heading up our Saas development team, developing new products and services that will make your websiteturn into a full online service portal for your business. Saas projects Chris has been developing for us : Online Waste Management Systems, Time and task tracking systems, volunteer and donation management systems for charities, online golf score and sports results tracking systems.
Senior PHP Engineer
Dawid Koniecki:
Dawid and his team have been developing high end web applications for over 5 years, adapting and integrating new technologies into our existing and new websites. A technolgy brilliance coupled with an ever expanding testbed of new web technologies makes Dawid and his team an perfect part of our growing company.
Php Engineer
Wojtek Murawski :
Php developer with specialities in Opencart, Javascript and CSS.
Pawel Suromski
Php developer with specialities in Magento osCommerce, zencart, Javascript and code igniter.
Graphic Design
Patrick O Callaghan
Patrick looks after our graphic design department. A recent honors graduate from the NCI who has 8 years graphic design experience.
Online Publishing
Wendy Kelly
Wendy looks after our online publications and data entry services. Wendy formerly of IBM where she acted as an acomplished technical writer. She brings a flair for content writing and editing.
Accounts
Louise Louise Simmonson Houraghan :
Louise looks after all our accounts and bookeeping.
---