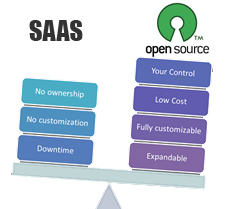 Saas Ecommerce vs opensource ecommerce
The debate between Saas based Ecommerce vs Opensource Ecommerce goes on. Below we have done a comparison based on SEO
| | | |
| --- | --- | --- |
| Feature | Saas | OpenSource |
| You own your ecommerce store independently | No | Yes |
| You can add custom features later | No | Yes |
| Multi Channel selling ( ebay, amazon plugins ) | Yes | Yes |
| You own your own search engine ranking | No | Yes |
| There are no limits for stock, orders and disk space | No | Yes |
| You can choose the hosting location | No | Yes |
| You can redirect urls after stock has changed | No | Yes |
| You can tweak SEO and url display | No | Yes |
| | | |
From a SEO perspective you are always looking to control your SEO as much as possible as Google penalizes plaguerism heavily. Ecommerce sites are vunerable because products are bulk loaded from manufacturers catalogs and these titles and descriptions are replicated all over the internet.
If a Saas product is not operating to the optimum SEO practices then your store will suffer. This is completely out of your control and will force you to spending more on advertising to compensate. On the contrary the Saas store may have excellent SEO now and be penalized by a future google update. There is nothing you can do about this as it is not in your control.
If you Saas ecommerce drops in SEO terms the price you pay to the Saas company will not change, they will not take responsibility for you SEO rankings.
Generally Saas Ecommerce is a one size fits all solution. It is suitable for temporary stores where there is no desire to keep the SEO value built up.
Saas does offer a complete hosted solution that is easy to set up and run but in the end of the day all Saas users end off hating their supplier because of the limitations and the lack of flexibility.
Over the course of a 4 year ownership developing a store and having it modified to fit your business exactly is going to cost the same as a Saas based store.
If you like to control everything and be able to change what you like to a limitless degree then o not be tempted by Saas Ecommerce as it will solve be a short term solution that makes grows a long term issue for your business.
Remember Saas is a huge business in getting signups, once they reach a critical mass they are then sold on to a larger organisation. If they do not make the cut as part of a larger organisation they are then spun out. This all goes on while you are trying to run your business. You then are a passenger with no input as to where you are going.
Better to go opensource and be control of everything. Because you are in opensource ecommerce you can then switch providers and not upset your store.