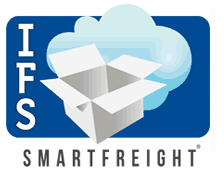 We now can integrate SmartFreight® to Opencart. 
SmartFreight® is a Transport Management Systems (TMS). It is not a transport company like UPS or DHL. It helps you get the best rates from these providers. 
IFS SmartFreight® Online is used to estimate shipping costs at the checkout using the most cost effective shipping method for you. 
SmartFreight® provides a real-time Web Services pricing of freight to ecommerce websites to ensure accurate cost recovery. Option to return single most cost effective rate or multiple rates with Transit times.
This method proves to be a deal winner with end customers who's expectations and costs are set early int he buying processing giving them extra confidence in doing business with your Online Store. 
Link to SmartFreight's® online brochure.